Finding the right guide solution
We pride ourselves in, and can confidently say, that there isn't a one-kind-fit-all solution in the realm of mobile guides. Rather, it comes down to what specifics surround the guide, in terms of practical circumstances and what the aim and idea behind the guide is.
To give you a better idea of how it works we have outlined different cases below, described in terms of practical circumstances, their vision, the guide content as well as add-on features.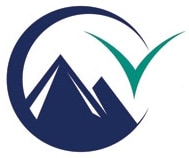 Rabbie's do small group bus tours around magnificent Scottish, Welsh, Irish and English landscapes. They wanted to create a multilingual GPS triggered audio app to complement their tours. Rabbie's felt it was important to reach out to non-English speakers with their fantastic stories, taking visitors beyond the guide books.
The app needed to work all over the UK and Ireland, including in remote areas where wifi isn't available. Therefore it was important for Rabbie's to have a solution that could function offline. The app thus functions with offline maps in large areas. Another important aspect was to create a sustainable, long-term solution, which could be built upon.
Rabbie's has visitors from around the world, however a significant part of the visitors cannot speak English and therefore don't fully grasp all their "on the road" driver-guide stories. The most important part of their vision is to bridge the language gap for non-English speakers. This especially applies to visitors from China, as they make up many of their foreign customers. The idea behind the app is to "enhance the customer's experience, while also adding extra value to the product proposition".
Rabbie's produced their content, first in Chinese (with English on the way), the primary focus being on audio. OnSpotStory assisted in transferring the content to the backend system.
Rabbie's wanted to enable the automatic GPS triggering of audio content.
Practical circumstances
Outdoors
Remote areas without wifi
Their vision
Bridge language gap
Cater to Chinese visitors
Stories
Content
Produced for the app
Chinese first
Rabbie's knew they wanted a native app, because of the need to have offline access as well as wanting to brand their guide solution according to their graphic profile. You can download the app both on the App Store and Google Play.
Future plans include potentially adding a payment function to the app.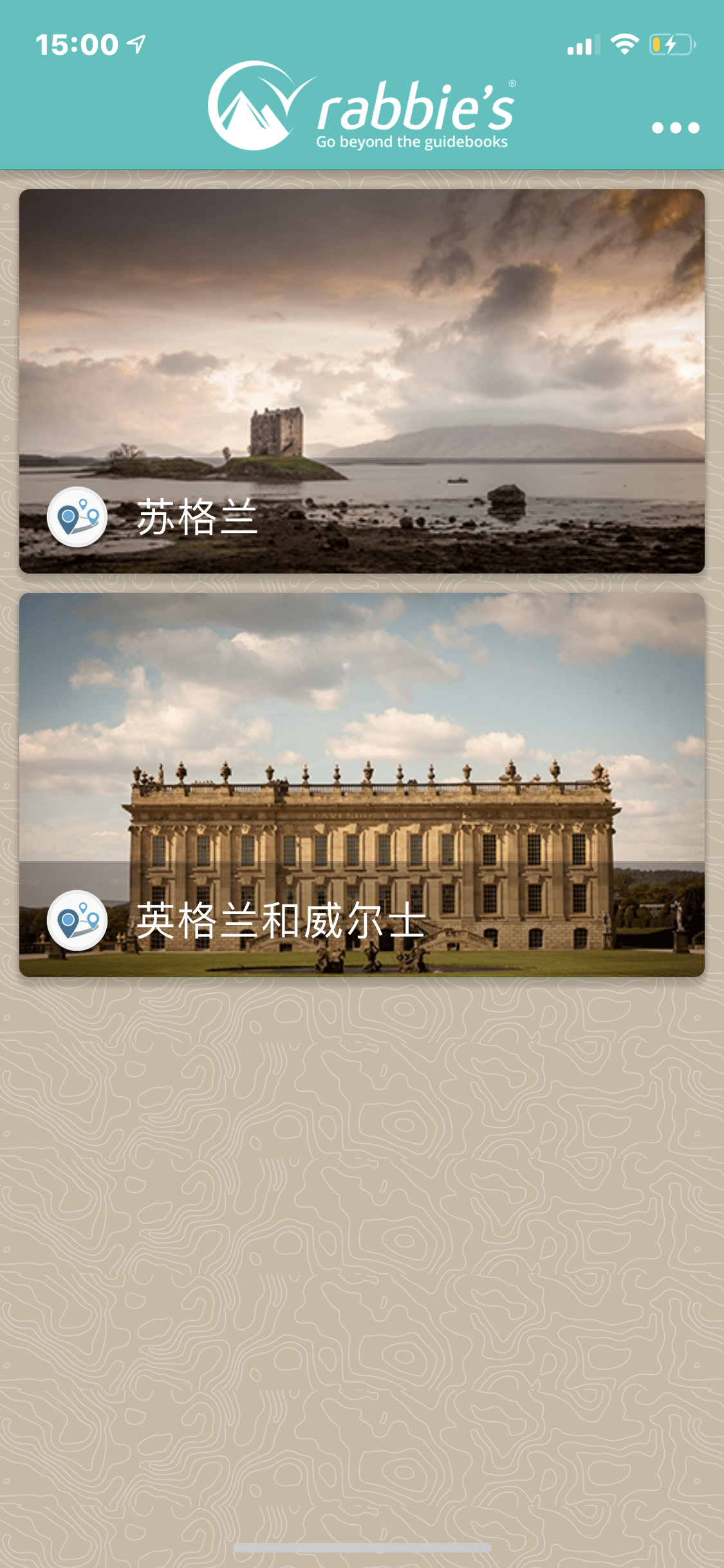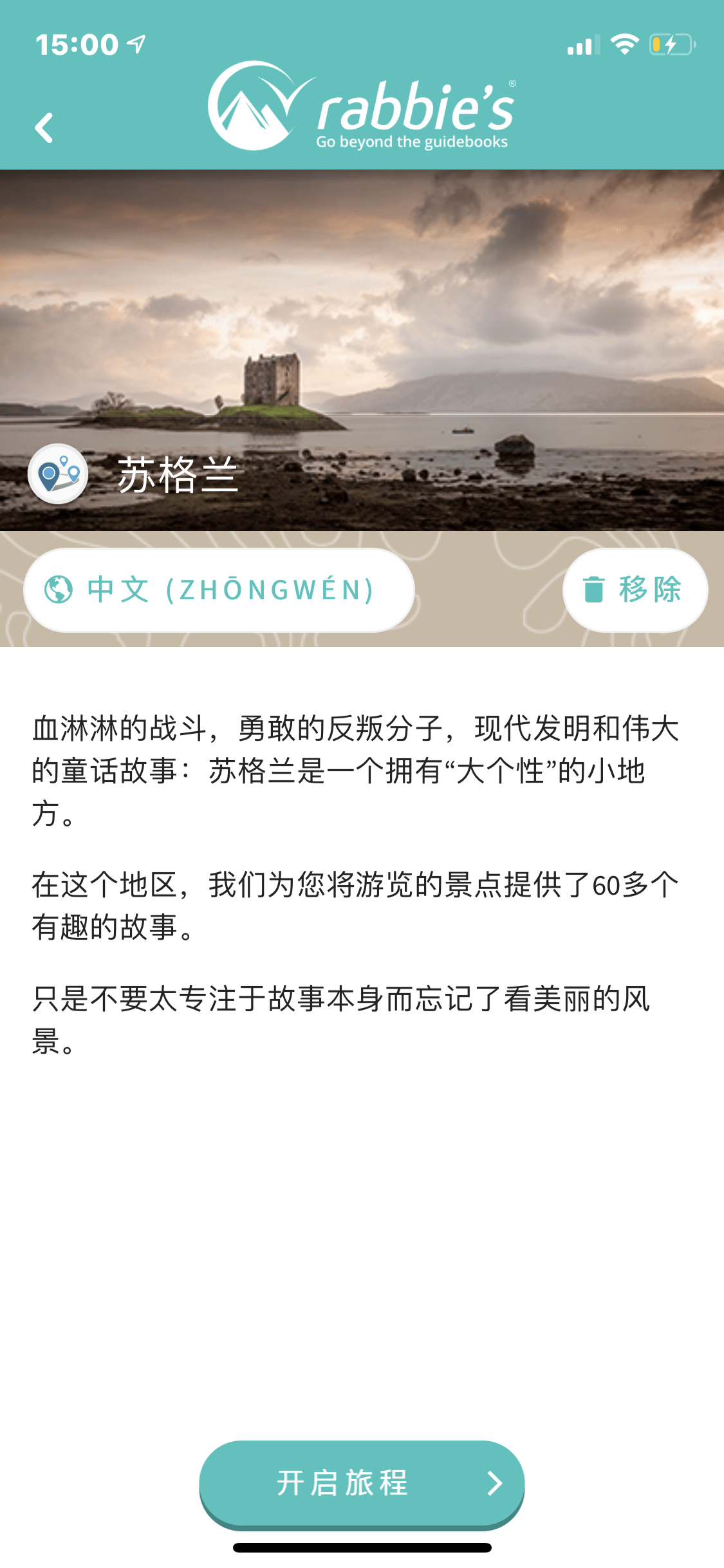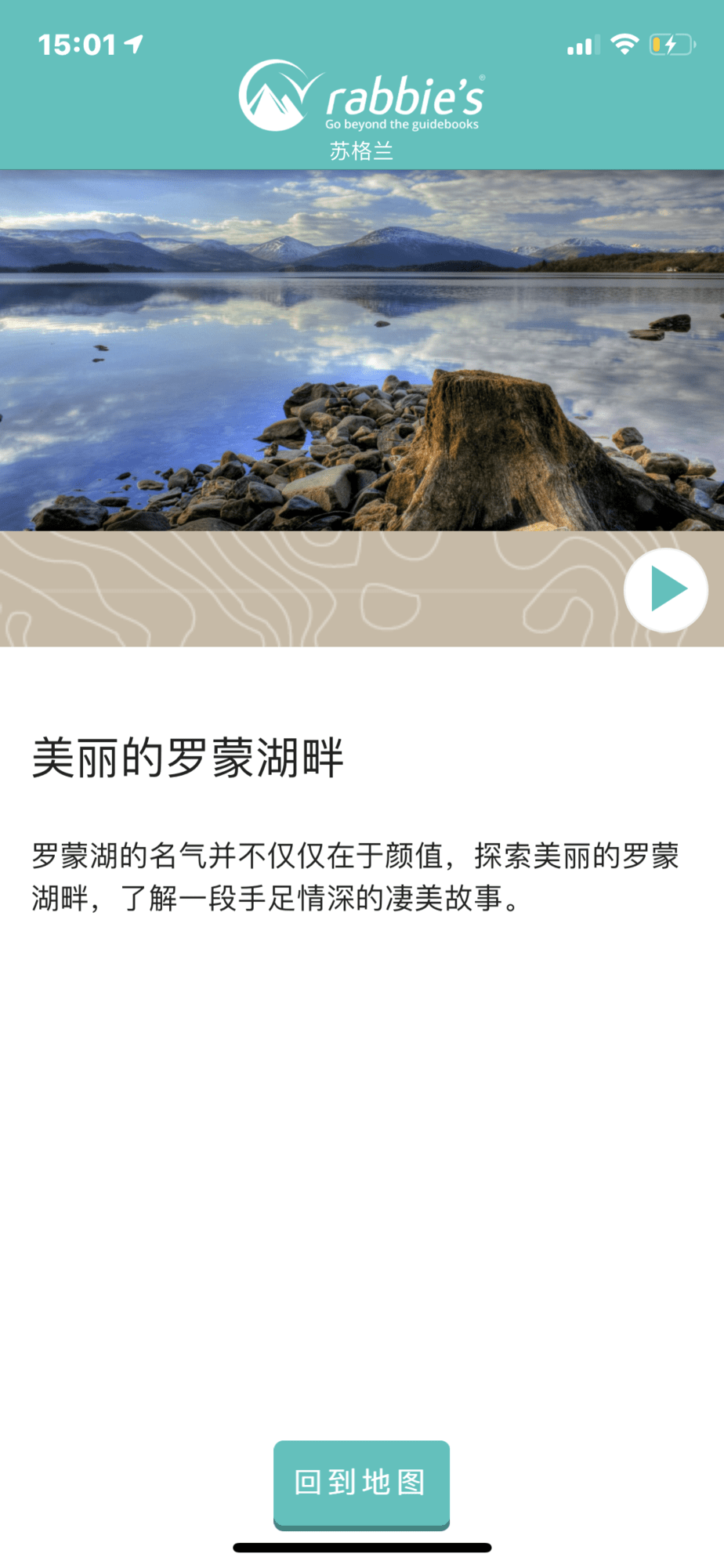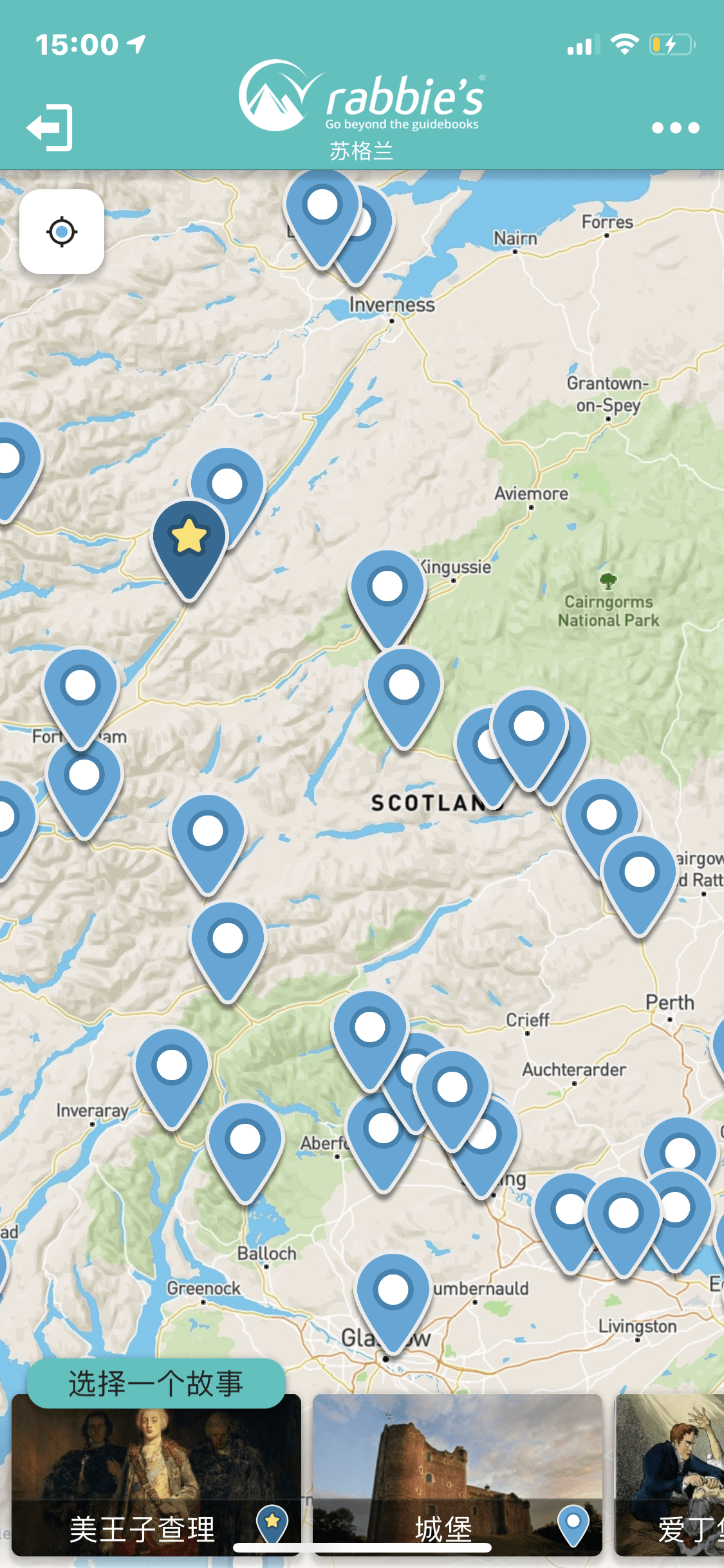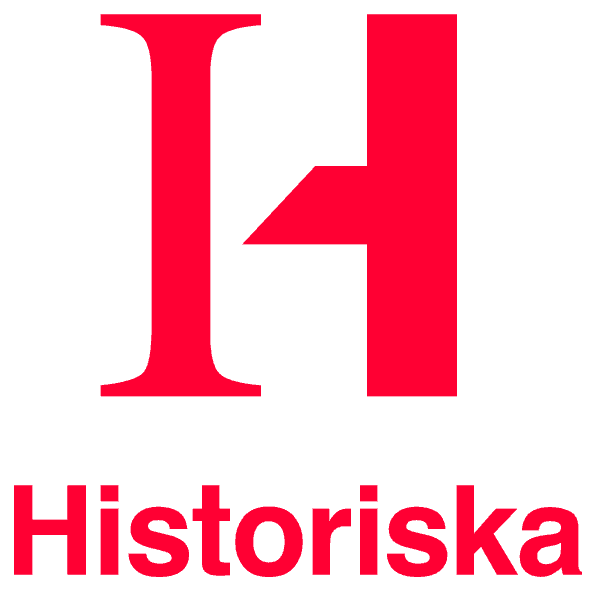 Historiska museet (The Swedish History Museum) has a wide audience with visitors from around the world. They wanted a simple and efficient system that would guide different types of visitors through their exhibitions.
Historiska museet, like many others, is in an entirely indoor museum. It's a large space with a solid audience made up of school children, tourists and history enthusiasts. The guide solution they were looking for was meant to be longterm and sustainable as they are not planning on going anywhere anytime soon. When it comes to their wifi connection, it is not great: there are certain areas where it works flawlessly and other rooms with thicker walls, where slight disturbances can occur.
Because of the wide audience with all sorts of people coming to visit, Historiska wanted to appeal both to the smartphone user and those without. A plus with providing devices is that they come with headphones, something not every smartphone user carries around with them.
The idea behind the audio guides is to provide educational and informative tours through their exhibitions. Making it simple and easy to get started with was something of great importance.
As the museum already has a well known graphic identity it was significant to integrate the guides with their profile.
Historiska had all their content in an existing audio guide, so it was a matter of transferring the content into our platform. They did however want to record an additional track for children and therefore used our audio recording service.
Historiska museet added a feature that enabled receiving payment via a voucher with a single code.
Practical circumstances
Indoor
Longterm
Not the best wifi
Their vision
Cater to non smartphone users
Provide headphones
Educational
Branding
Easy to get started
Historiska has an all-encompassing solution: For visitors that prefer using their own mobiles, they can easily connect to the web app. If the visitor prefers to put away their phone during the visit, they can use the PLUS-unit instead, a device handed out at reception. The museum especially appreciated that our solution came with a single CMS (content management system) for all their guides, which they could easily use to modify any guide content.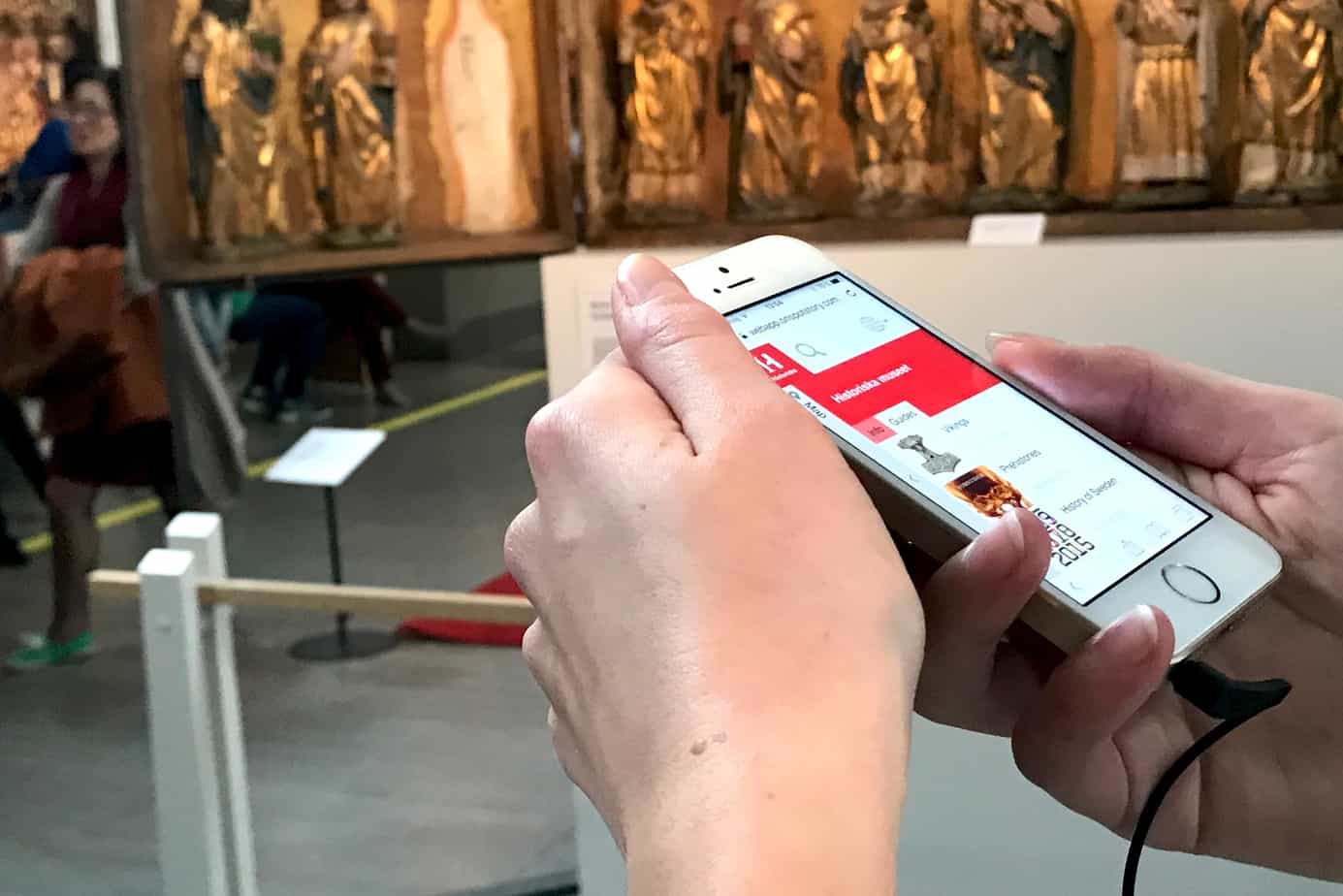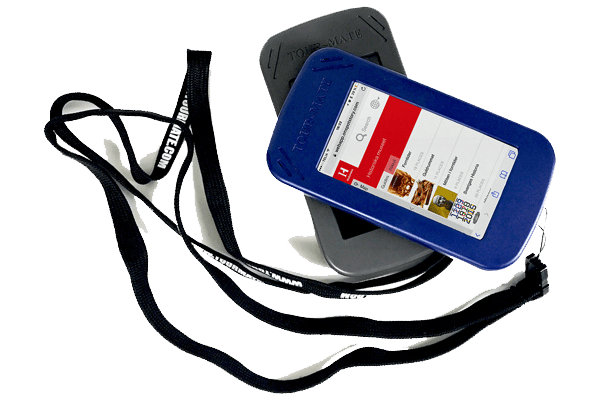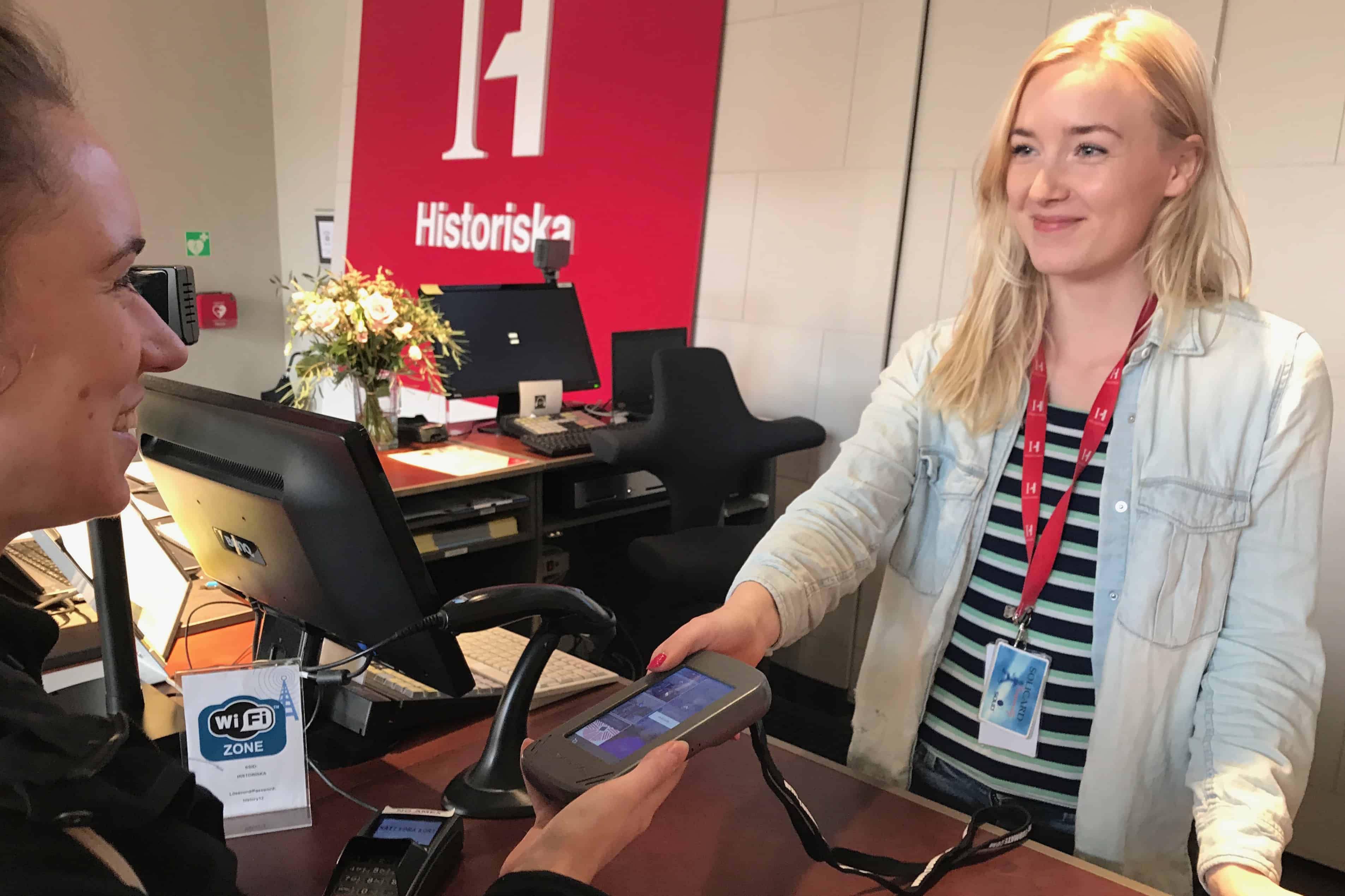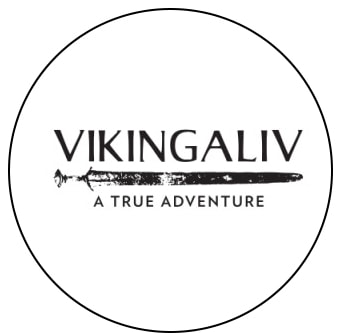 In April 2017 Vikingaliv opened on the royal island of Djurgården in Stockholm, a museum dedicated to the Viking Age and experiencing it in a fast, modern and interesting way. They wanted a guide solution that was easy to get started with and would match their graphic profile.
Vikingaliv, like Historiska museet and many others, is an indoor museum. It is not a huge location and has a well-functioning internet connection. They wanted a long-term solution that would cater to a large audience, especially tourists visiting from abroad.
As wanting to appeal to many different types of visitors was essential, Vikingaliv wanted a solution that would be very simple to get started with. The idea behind the audio guides is to provide educational and engaging tours through their exhibitions, using moving images in combination with audio. As the museum was new and invested a great on branding and advertising, it was important that the guide would be able to integrate seamlessly with their existing visual identity.
Vikingaliv wanted several guides and produced the content themselves. They used OnSpotStory to assist with translation work (English to Swedish) and professional audio recording for the guides.
Vikingaliv has a router adjustment in place, which means that when a visitor connects to their wifi, a popup window automatically appears on the screen, showing the guide app.
Practical circumstances
Indoor
Longterm
Very good wifi
Their vision
Cater to large audience
Easy to get started
Educational
Branding
Content
Existing
Translation
Audio recording
With the Web App, which works perfectly full screen and on mobiles, the visitors can simply connect to the internet, and without typing in a URL or downloading anything, be on their way. The app was designed to match the graphic profile of Vikingaliv, ensuring integration with their website etc. OnSpotStory also provided translation services and audio recording for the content of the guide.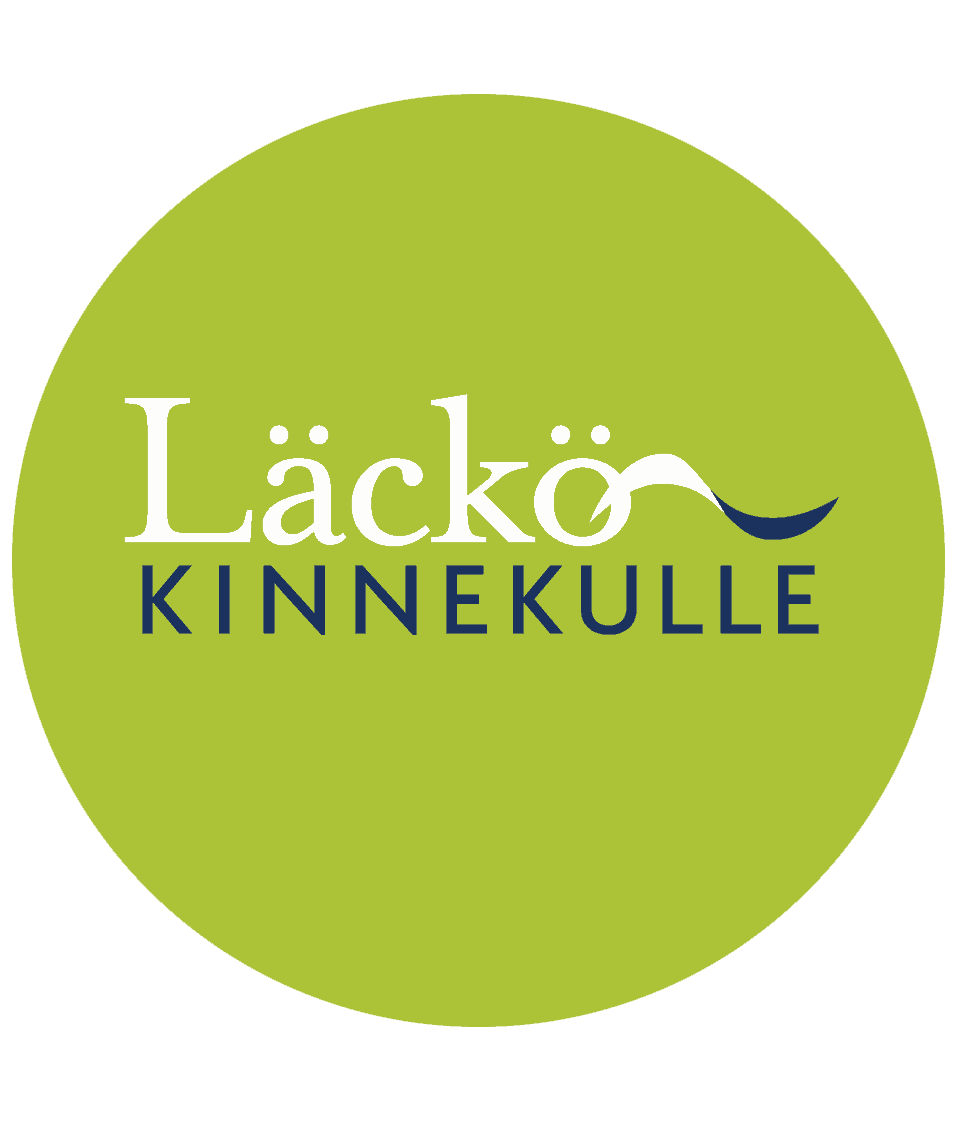 The destination Läckö-Kinnekulle is located in Skaraborg between Sweden's two biggest lakes, Vänern and Vättern, and has plenty of beautiful nature to offer, especially for cycling, hiking and paddling. They wanted to let tourists explore this fascinating landscape with a new app, catering to both walkers, cyclists and people traveling by car.
Läckö-Kinnekulle's app is aimed primarily toward Swedish tourists and locals, a target group that generally speaking has good internet connection. Though outside and in part focused around nature, the tours are not so remote that losing connection is a problem.
Läckö-Kinnekulle had long been thinking about an app, realising that it could fill a role that goes beyond what their website can offer, adding value for their visitors. Using market research as their foundation they looked at what features visitors wanted and didn't want from an app. With these answers in consideration they chose OnSpotStory.
It was important to be able to add different tours at different points in time and to cater to different modes of transport, such as walking or driving. They also liked the simple yet functional design of the OnSpotStory app.
Läckö-Kinnekulle created their own content, which consists of several guides in Swedish; a historical city walk, a design walk and several nature tours by car.
The Läckö-Kinnekulle app will include an event calendar, a great way of informing visitors about what is happening in the area. OnSpotStory will create a software-function that regularly updates and syncs the calendar in the app from their EPI. This software will get data via an API from Läckö-Kinnekulle's EPI and update our database accordingly.
Their vision
Cater to different modes of transport
Get an overview of what the area has to offer
Branding
Läckö-Kinnekulle knew what they (and their visitors) wanted from the outset and went for the own app, downloadable both on the App Store and Google Play. The app work was underway quickly and set up in different stages to be able to offer a first version for the summer season.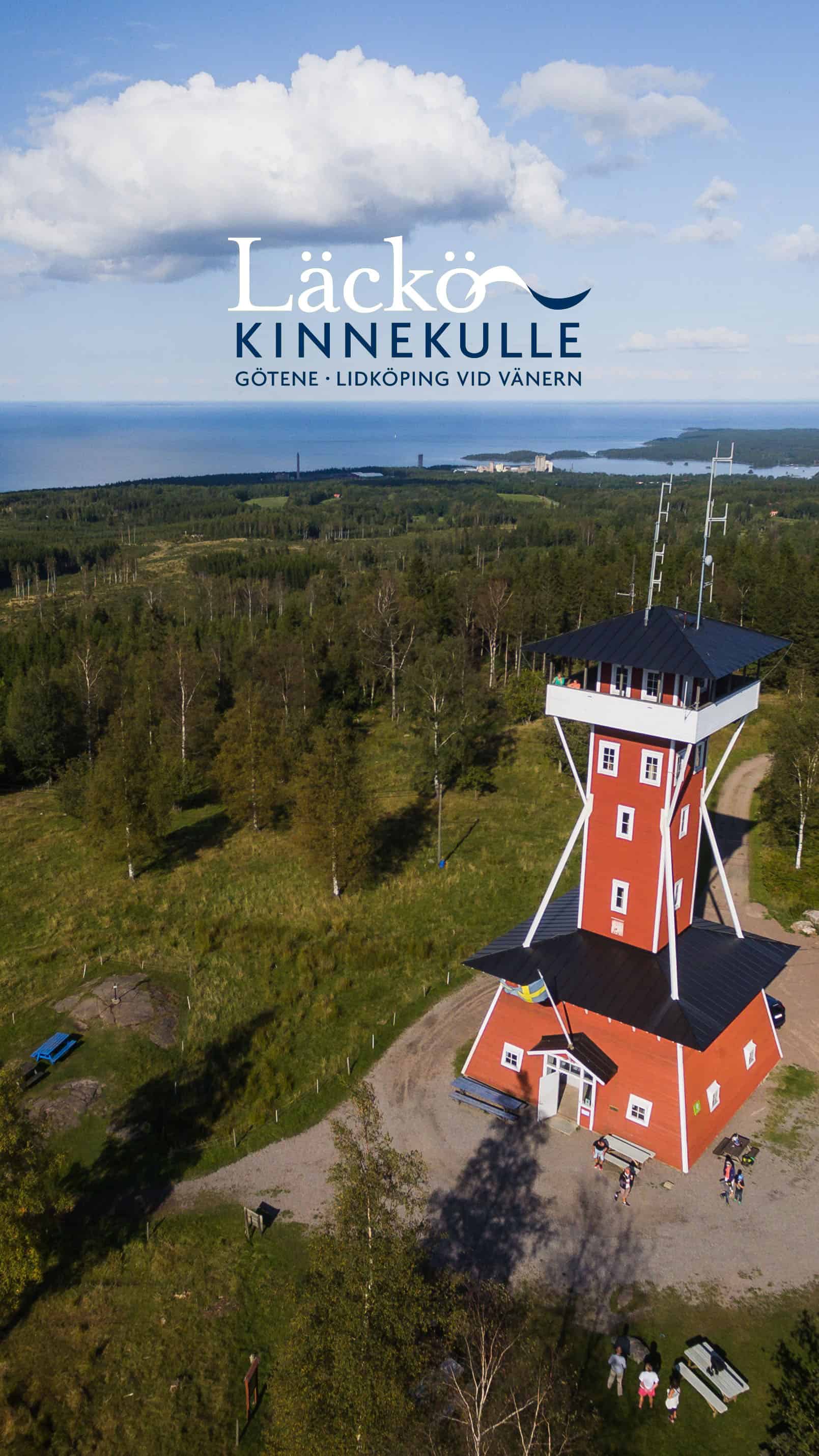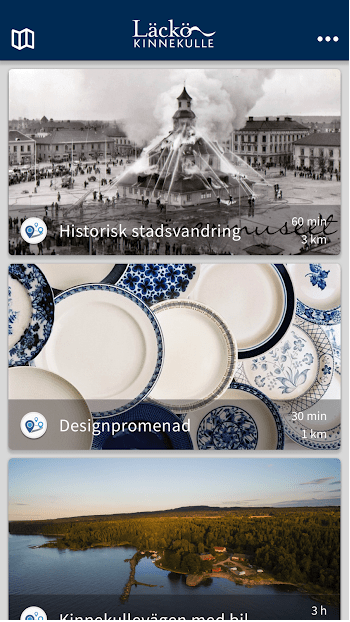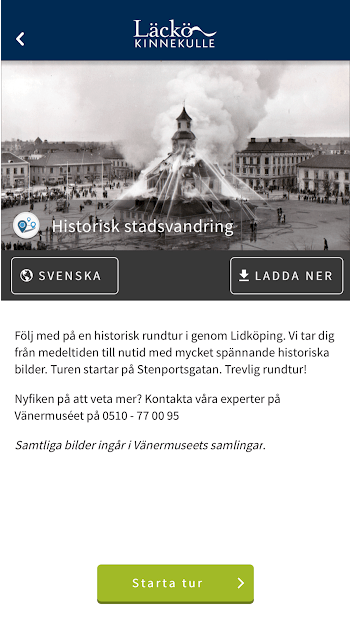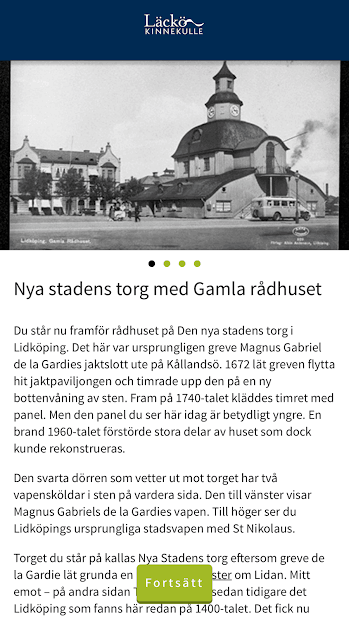 Defence Arch-Stories of the Coastal Past is a recently launched project aimed at developing and promoting the coastal region around Sweden, Finland and Åland. The first destination was released in summer 2017.
The overall objective of Defence Arch is to develop existing, though almost untapped defence historical resources of several islands in the Swedish and Finnish archipelago. Because of the remoteness of some of the locations, and wanting to appeal to tourists from abroad, the wifi situation is not ideal. One of the objectives specifically is to "create a story-rich and informative digital content to illustrate the destinations", in order to add to the experience. The project is planned to run for three years (until 2019) and is therefore a relatively long-term investment.
Because of the comprehensiveness and scale of the project, it was important to have an option that would include integrating their graphic profile into the guide seamlessly. Also, truly shed light on these hidden historical treasures, Defence Arch wanted to use advanced digital technology that would enable new ways of seeing.
Defence Arch created their content, which consists of several guides. The content is in Swedish, Finnish and English.
In order to bring life to cultural heritage of which only ruins remain they wanted to include augmented reality (AR) functionality. This means visitors can hold their phone up to a specific sight and see what it looked like in its glory days on their phone. This functionality is still in the process of being developed.
For offline access the app uses OpenStreetMap.
Practical circumstances
Outdoors
3 year project
Unreliable wifi
Their vision
Advances technical functionality
Educational
Branding
Way finding assistance
Together with the different actors running the project, a new app was created. As they were pressed for time, we very efficiently moved from ideation to reality and had the first version of the app up and running within a month of starting the process.